Extension cable with RP-SMA connectors between module and antenna.
Features
Compatible with module with RP-SMA and antenna
0.3 m and 0.2 m sizes available
Connection Examples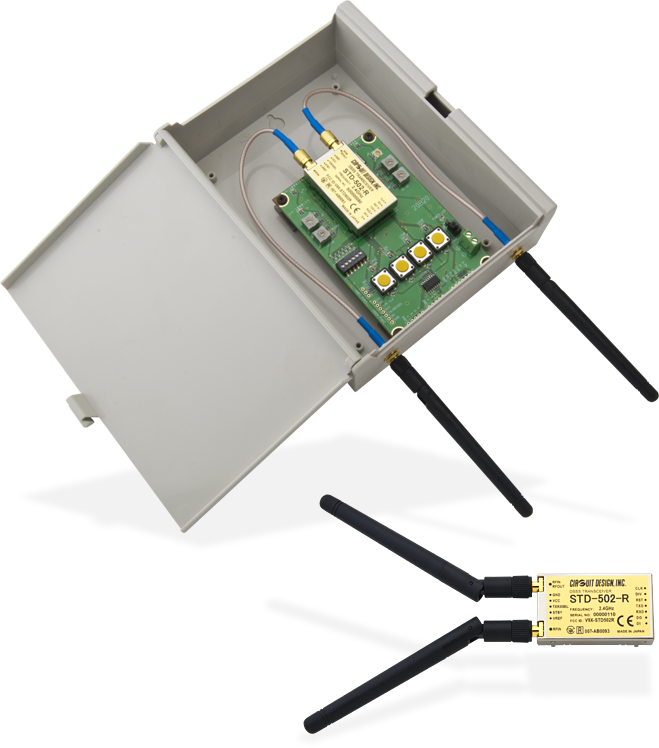 Example of CBL-RPSMA-03/02-R with TB-STD502.
When using a plastic case connect the antenna base of the ANT-2G4W1-R with a metal ground plane for antenna impedance matching. A wider ground plane is more effective for receiver sensitivity and stability.
In order to avoid influence from noise, the coax cable must be placed far away from the CPU and PCBs.
The above picture shows the antenna connected to the radio module through CBL-RPSMA-02-R.
The STD-502 uses 2 antennas for diversity reception. In order to fully use the diversity feature, it is recommended to keep the antennas at least 1/4 lambda (apx. 3 cm) apart.
Specifications
Parameter
Specification
Remarks
Cable Length
0.2m: CBL-RPSMA-02-R
0.3m: CBL-RPSMA-03-R
Excluding connector
Coaxial cable (50Ω)
RG-316
Connector
RP-SMA jack / RP-SMA plug
Plug Connector
RS101 and RS204P0G24-M-1
Waterproof
No
External View
CBL-RPSMA-02-R, CBL-RPSMA-03-R Dimension