ANT-2G4W1R-R is a 2.4 GHz antenna incorporating a 90-degree swivel base. The base uses a reverse SMA plug that fits directly to the RP-SMA connector. This antenna is identical to the ANT-2400-SF.
Features
2.4 GHz operation
Omni-directional
RPSMA connector
90 degrees swivel base
Connection Examples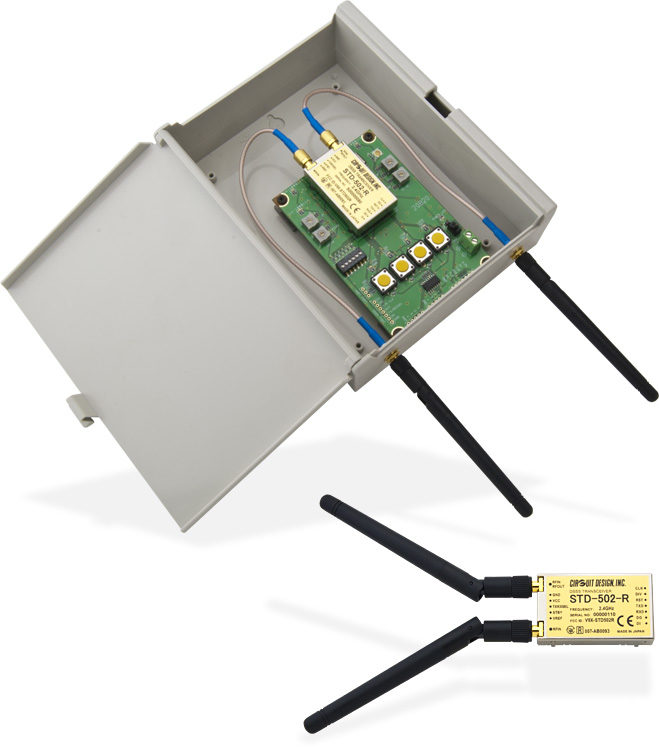 Example of ANT-2G4W1R-R with TB-STD502-R and STD-502 module.
When using a plastic case connect the antenna base of the ANT-2G4W1R-R with a metal ground plane for antenna impedance matching. A wider ground plane is more effective for receiver sensitivity and stability.
In order to avoid influence from noise, the coax cable must be placed far away from the CPU and PCBs.
The above picture shows the antenna connected to the radio module through CBL-RPSMA-02-R. When using a dedicated coaxial cable for the connection, make the cable short to avoid loss from the cable and influence from external components.
The STD-502-R uses 2 antennas for diversity reception. In order to fully use the diversity feature, it is recommended to keep the antennas at least 1/4 lambda (apx. 3 cm) apart.
Specifications
| Parameter | Specification | Remarks |
| --- | --- | --- |
| Frequency band | 2.4 GHz | VSWR: ≤ 2 |
| Antenna type | Omni-directional, vertical polarization | |
| Impedance | 50 ohms | |
| VSWR | ≦ 2 | |
| Gain | 2 dBi | |
| Connector | Reverse SMA connector | |
| Length | 107 mm (antenna) | Including connector |
| Weight | 8.5 g | |
| Attachments | None | |
External View
ANT-2G4W1R-R