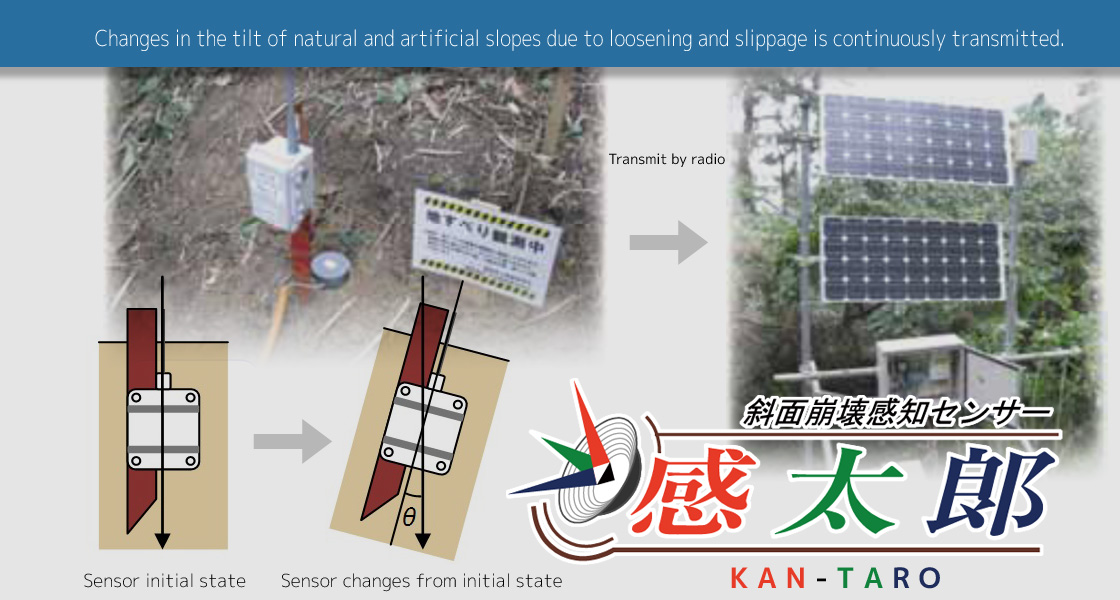 Embedded in the ground slope is a unit that collects and transmits data from a tilt sensor.
Gradual shifts in tilt can occur in natural or artificial ground slopes due to factors such as looseness and slipperage. The KANTARO was developed for capturing such shifts.
Measurements from the tilt sensor driven into the ground slope are taken at regular intervals. Changes in the tilt and the speed of change are determined and the level of risk evaluated. The data from the tilt sensor and information that could indicate imminent ground collapse can be transmitted quickly by radio making this useful in disaster prevention.
The system and radio product used in this case study
Company Name
Chuo Kaihatsu Corporation
System
KANTARO slope failure monitoring system
Radio Product

For RF communication, the low power radio modem MU-2-429 operating in the 429 MHz band is used. The line of sight achieved is 1km or more and if relays (upto maximum 10 stations) are used, further long distance communication is possible.

MU-2-429
Overview of unit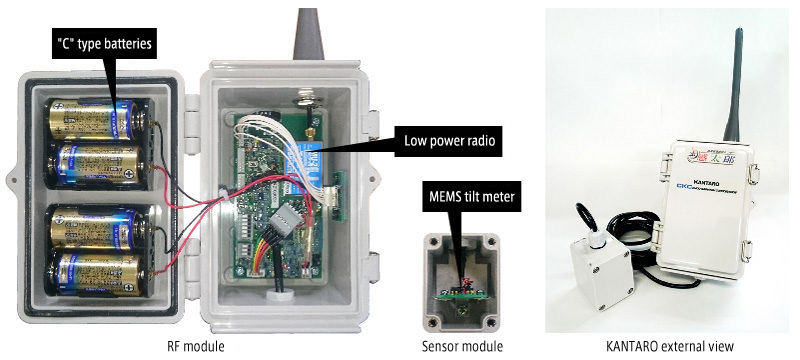 By incorporating MEMS (Micro Electro Mechanical Systems) technology for the sensor module and using the low power RF module MU-2-429, downsizing, power saving and low cost is achieved. This allows simple installation and connection of optional sensors compared to conventional measuring systems.
Circuit Design also manufacture modules for use in the 434 MHz band allowing similar application to be developed in countries outside Japan.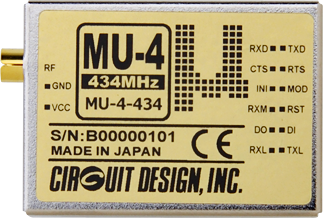 The low power radio MU-4-434 modem operates in the ISM 434 MHz band and uses our command protocol for communication. This makes it easy for the user to transmit sensor data by wireless without having to be aware of radio protocols and control aspects. MU-4-434 units have low power consumption (by using battery and solar power) and can be configured individually facilitating use of relay stations to extend range even further.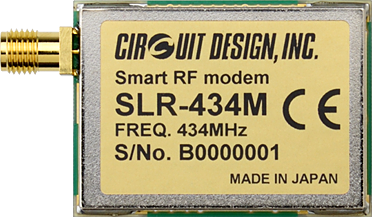 The low power radio SLR-434M operates in the 434 MHz ISM band and uses our command protocol for communication. Similar to MU-4-434, the user does not have to be aware of radio protocols and control aspects. SLR-434M incorporates LoRa® technology developed by Semtech. Using LoRa modulation while lowering bitrate allows long distance communication to be achieved without installation of additional relay stations. This would be advantageous in remote areas where obtaining power supply becomes too difficult.
The SLR-434M contains a Semtech's LoRa® wireless RFIC.
The LoRa® Mark and LoRa Logo are trademarks of Semtech Corporation.