2020.03.11
Announcing the compact UHF transmitter and receiver CDP-TX-07M, CDP-RX-07M
Dear Valued Customer,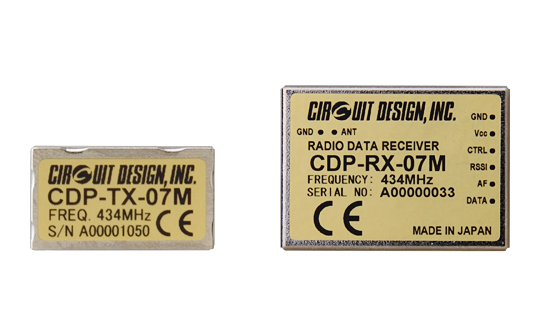 Circuit Design, Inc., the leading supplier of low-power radio modules, releases the compact, multi-channel transmitter CDP-TX-07M and receiver CDP-RX-07M.
Circuit Design's radio modules are used in numerous industrial applications, and are highly rated for both their quality and performance. The newly released CDP-TX-07M and CDP-RX-07M inherit the compact, high-functionality, high-quality concept of their first-generation models, and through Circuit Design's narrowband radio design technology, function as 434 MHz 10 mW ISM band radio modules, while also realising a communication range of 600 metres or more. Thanks to lower profile internal components, the transmitter is just 4.5 mm high.
The receiver fulfils the requirements of the highest EN300220 receiver standard, Category 1, and has excellent interference rejection characteristics.
With newly added CDP-07MP model, the channel can be selected by either soldering jumpers or pins. In addition, the preset channels can be reprogrammed to four frequencies selected from 67 frequencies in 434 MHz European ISM band using a dedicated setting program. Thanks to this feature, the range of options for usable frequencies has greatly increased.
Circuit Design has kept the same user interface while at the same time updating internal circuits, providing the long-term stability demanded for industrial applications. More than twenty years have already passed since the introduction of the first generation of these long-life models, and our latest modules boast added functionality and enhanced product life.
Documents for downloading | Contact & Sample Request
<Technical features>
CE compliant
Compact size: Transmitter: 22 x 12 x 4.5 mm, 2 g / Receiver: 36 x 26 x 8 mm, 13 g
4 frequency channels with narrowband FM 25 kHz channel spacing in 434 MHz
4 channels can each be reprogrammed with a frequency chosen from 67 possible values
Superior receiver performance: Receiver Category 1
Simple and easy transparent serial data interface allowing use of user-specific protocols
Operating voltage: Transmitter: 2.2 to 5.5 V, 20 mA / Receiver: 3 to 14 V, 23 mA
Operating temperature range: -20 to +65 ℃
<Applications>
Industrial remote control / Telemetry and monitoring systems / Tracking systems