2022.11.24
Announcement Regarding Compact UHF Transmitter and Receiver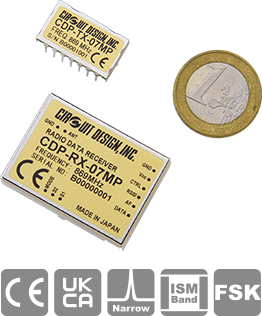 Circuit Design, Inc., the leading supplier of low power radio modules,  announces the release of 869 MHz models of the compact UHF transmitter (CDP-TX-07MP) and receiver (CDP-RX-07MP).
 The compact narrow band radio module CDP series has been highly regarded since the first generation model for industrial radio applications, including remote control, and is a long-selling model that has been supplied for over 20 years. It is a simple, high-quality radio module that without having an embedded communication protocol, allows radio communication using user-specific protocols. 
The CDP series provides stable communication even in poor radio communication environments, thanks to narrow band communication and a receiver with high selectivity and blocking performance.
The CDP-07 model is the most compact model in the series. It is pin compatible and communication compatible with the previous models CDP-TX-05M-R / CDP-RX-05M-R. The smaller size and lower profile of the internal components have resulted in a 25% reduction in transmitter volume (compared with previous models).
These new 869 MHz versions have been added in addition to the previously released 434 MHz versions.
CDP-07MP models can have their preset frequency channel tables rewritten by a dedicated configuration program*1. In the 869 MHz versions, you can select and set 4 channels from among the 155 channels (in 12.5 kHz steps) from SRD 868 to 870 MHz. The required frequency can be selected in the 869 MHz band*2 where sub-bands are specified by the application. The four preset channels can be selected from either solder jumpers or pins on the board.
Circuit Design maintains the interface while updating the internal radio circuitry and electronic components to ensure the long-term stable supply required for industrial equipment.
Sales will begin in March 2023.
CDP-TX-07MP / CDP-RX-07MP 869 MHz features are described below.
Features
CE/UKCA compliant
Compact and lightweight: Transmitter 22 x 12 x 4.5 mm 3g, Receiver 36 x 26 x 8 mm 13g
4 RF channels - Narrow band FM 25 kHz channel space
 Any 4 channels can be preset from the 155 channels in the 868-870 MHz band (MP model only)
Double super heterodyne receiver: High receiving sensitivity / High selectivity and blocking performance
Transparent data interface
 Simple, easy-to-use interface, allowing the use of user-specific protocols.
Operating voltage: TX 2.2 - 5.5 V, 18 mA RX 3 - 14 V, 23 mA
Operating temperature range: -20 to +65°C
Made in Japan
Applications
Industrial remote control
Telemetry and monitoring systems
Alarm systems
*1 Frequency channel setting program

*2 Regulatory parameters for 868 - 870 MHz band (by Annex)

Download the image
http://www.cdt21.com/news/circuit-design-pr-materials/


About Circuit Design
Circuit Design, Inc. designs and supplies low power radio modules for various application fields such as telecontrol, telemetry, alarms, serial data transmission and audio. The products comply with European ETSI, US FCC and Japanese ARIB standard. 
Quality is assured with an ISO9001-certified design and manufacturing process based in Japan.
Media Publication