For the CDP-TX-02F, CDP-RX-02F, frequency setting is performed with the 7-bit switches.
They are suitable for various application fields such as wireless data communication, remote control, telemetry or wireless security systems. They are easy to use and integrate into application systems.
CDP-TX-02F and CDP-RX-02F are equipped with a frequency synthesizer system with micro controller. Available frequency ranges are from 128 preprogrammed channels. The compact size, low operating voltage and frequency selectability of the CDP-02F make it ideal for various applications where its interference rejection and propagation distance range is far better than similar RF modules based on wide band SAW-resonator frequency generators.
The CDP-RX-02F receiver has excellent blocking and adjacent channel selectivity.
Features
10 mW/1 mW RF power selectable
Wide operating range (-20 to +60 degree C)
Pre-programmed 128 ch
Narrow band FM 12.5 kHz step
PLL controlled VCO, data rate 4,800 bps
Receiver sensitivity -120 dBm, 600 m operating range
Receiver category 1.5
RED compliant (EN 300 220)
Applications
Industrial remote control
Factory automation M2M
Security systems
Alarms
Telemetry systems
Other products related to this product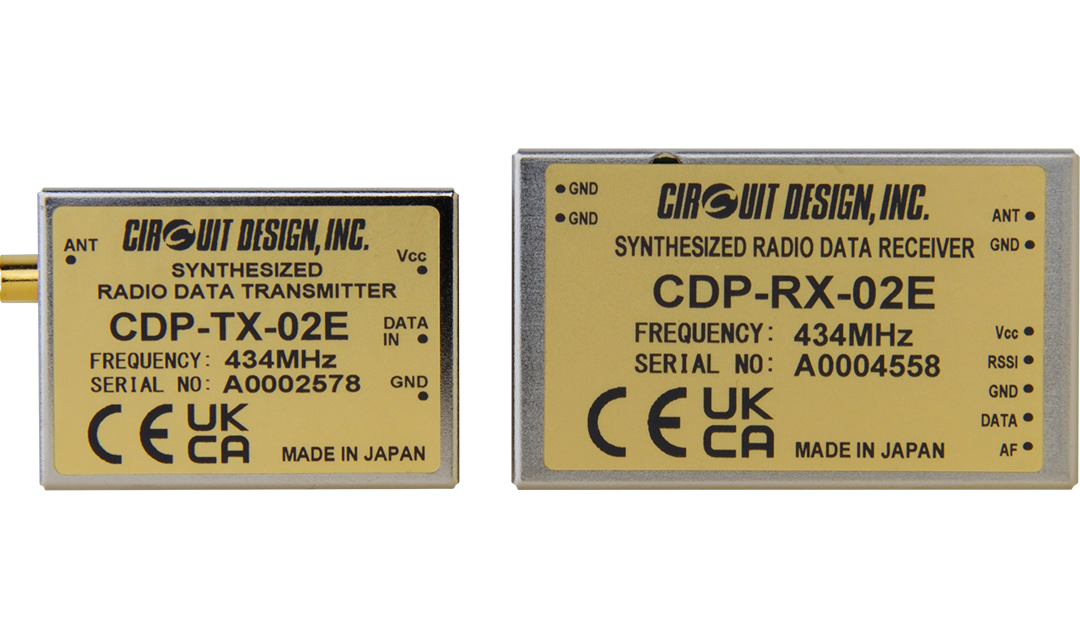 Multi Channel Radio Transmitter and Receiver (32 Channels)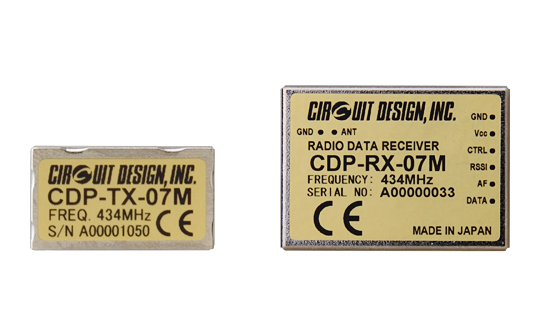 Compact Multi Channel Transmitter and Receiver (4 Channels)
Specifications
Common
Parameter
Specification
Remarks
Applicable standard
RED compliant (EN 300 220)
UK Radio Equipment Regulations 2017
Communication form
One way
Emission type
F1D
FSK narrow
Oscillation system
PLL controlled VCO
Frequency
433.1875 to 434.7750 MHz
Number of RF channels
128 channels
12.5 kHz step
Channel spacing
25 kHz
RF bit rate
300 to 4,800 bps
Pulse width
Min. 208 us / Max. 20 ms
Operating temperature range
-20 to +60 degree C
No dew condensation
Transmitter Part
Parameter
Specification
Remarks
Transmitter type
PLL synthesizer
RF output power
10 mW / 1 mW
Data input
Digital L = GND, H = Vcc
Deviation
+/-2.1 kHz
PN9 4,800 bps
Spurious emission
< -54 dBm
(47 - 74 M, 87.5 - 118 M, 174 - 230 M, 470 - 862 MHz)
< -36 dBm (Other frequencies < 1000 MHz)
< -30 dBm (> 1000 MHz)
Adjacent channel power
< -37 dBm
Supply voltage
3.0 to 12 V DC
Supply current
43 mA typ.
33 mA typ.
3 V/10 mW
3 V/1 mW
Dimensions
36 x 26 x 10 mm
Weight
14 g
without antenna
Receiver Part
Parameter
Specification
Remarks
Receiver type
Double Superheterodyne PLL synthesizer
Receiver category
1.5
Receiver Sensitivity
-120 dBm typ. (12 dB SINAD)
-120 dBm typ. (BER 1 %)
Adjacent channel selectivity
-50 dBm
+/-25 kHz
Blocking
-25 dBm
+/-2 MHz
-20 dBm
+/-10 MHz, 5% of center frequency
Spurious radiation
< -60 dBm (< 1000 MHz)
< -50 dBm (> 1000 MHz)
Data output
Digital (L = GND H = Vcc)
Supply Voltage
3.0 to 12 V DC
Supply current
30 mA typ.
33 mA typ.
3 V
12 V
Dimensions
50 x 30 x 9 mm
excluding protrusion
Weight
20 g
* For the specifications of the previous model (S/N C000xxxx), refer to the operation guide.
Specifications are subject to change without prior notice.
External View
CDP-TX-02F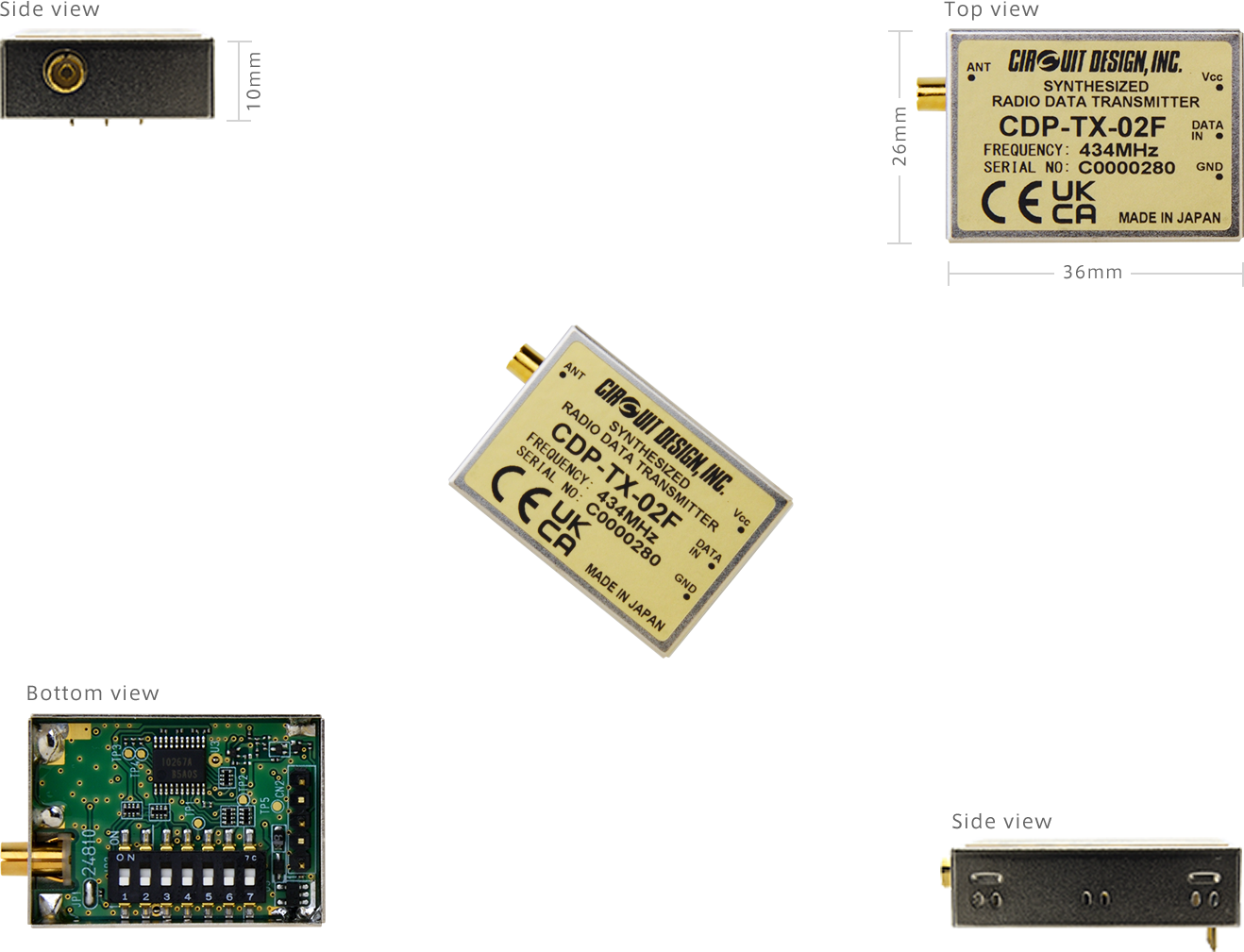 * Antenna, ANT-LEA-01-R, is included.
CDP-RX-02F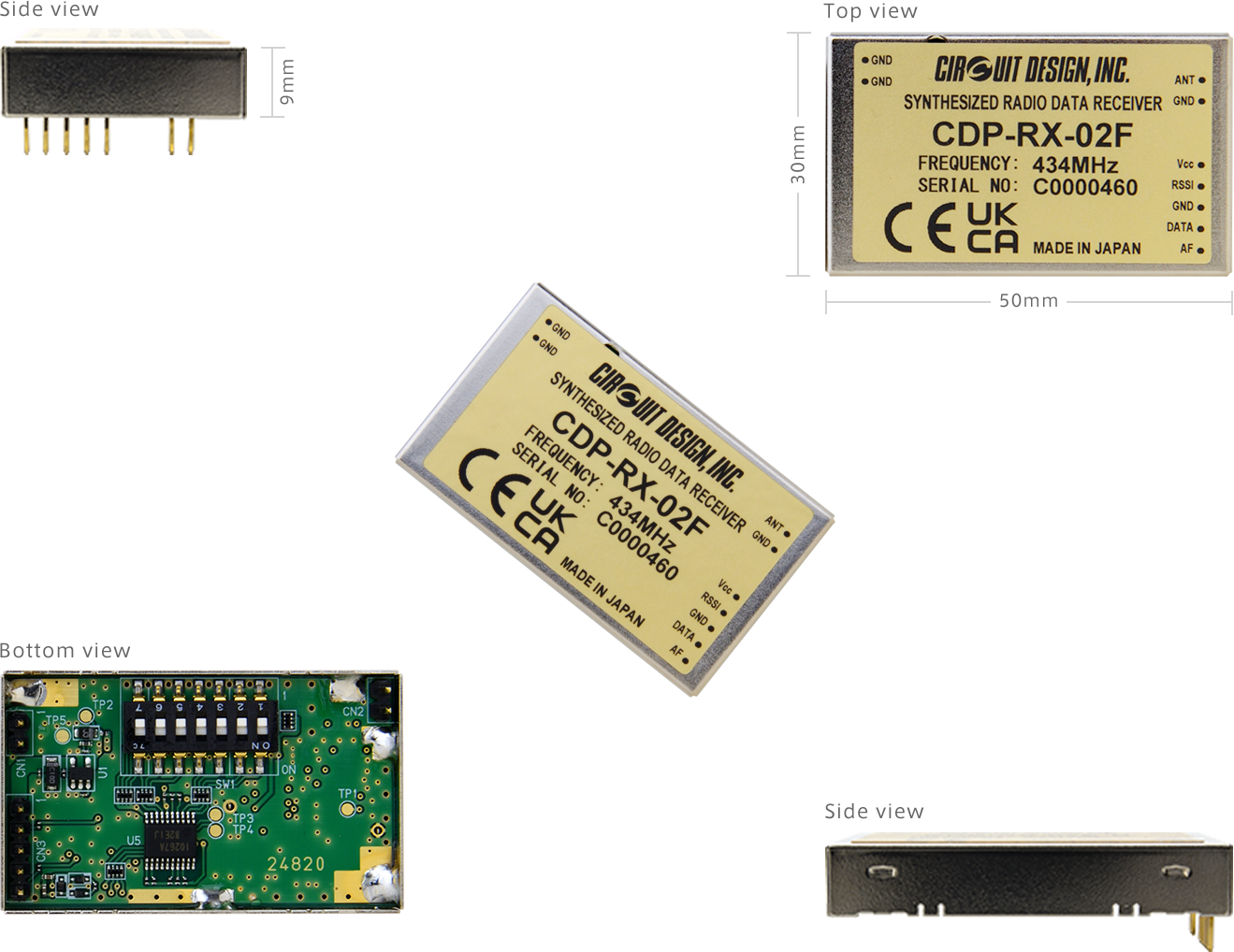 Evaluation Tools: ECB-03, DCB-03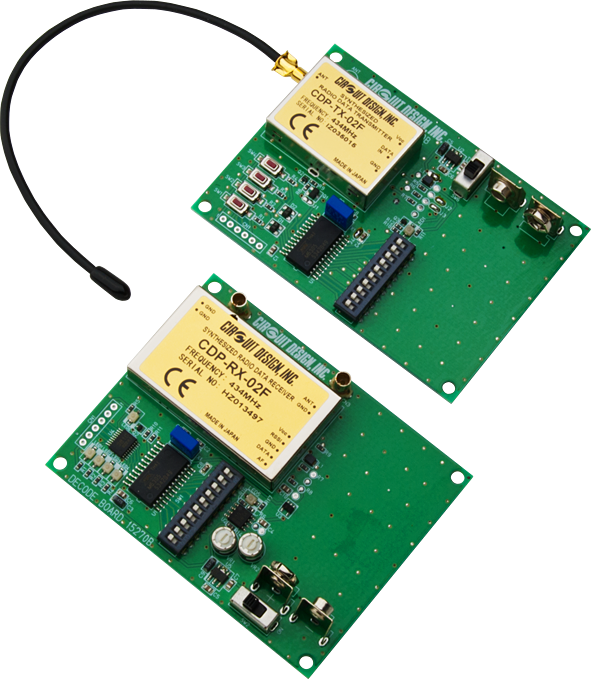 The test board ECB-03 (Encoder board) and DCB-03 (Decoder board) will save you time and effort for evaluating CDP-TX-02F, CDP-RX-02F modules. Communication range can be tested easily by checking the LEDs on the decoder board.
ECB-03 and DCB-03 do not include modules CDP-TX-02F, CDP-RX-02F. Please make sure to order them if needed.
Features of the Status Translation
TX board: 8 inputs (optocoupler) & RX board: 8 outputs (photo MOS relays).
Manual and automatic channel control
Different transmission types (test mode, continuous mode, triggered mode)
Learning and pairing mode (TX 1 : RX N or TX N : RX 1)
8 monitoring LEDs on the receiver board
Data packets with CRC16 checksum
Fail safe mode with max error count
Calibrated to -116 dBm for automatic channel control
Features of the Development Set
Fully programmable Atmel® ATMEGA324P over ISP port
32 kB internal flash and 2 kB EEPROM for original software
2 UART ports for CDP-02 and debugging/data transmission and reception
3 DIP switches for configuration
Complete documented source code for status transmission
Features
4-push buttons and output LEDs.
Encoder and decoder IC MSM6305 with the user selectable 1024 address codes.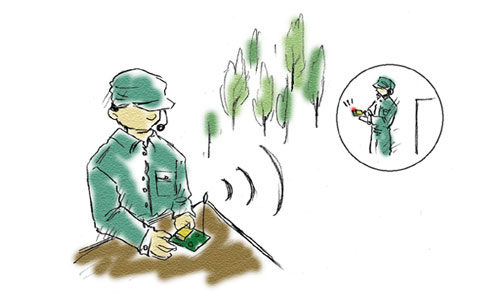 External View
ECB-03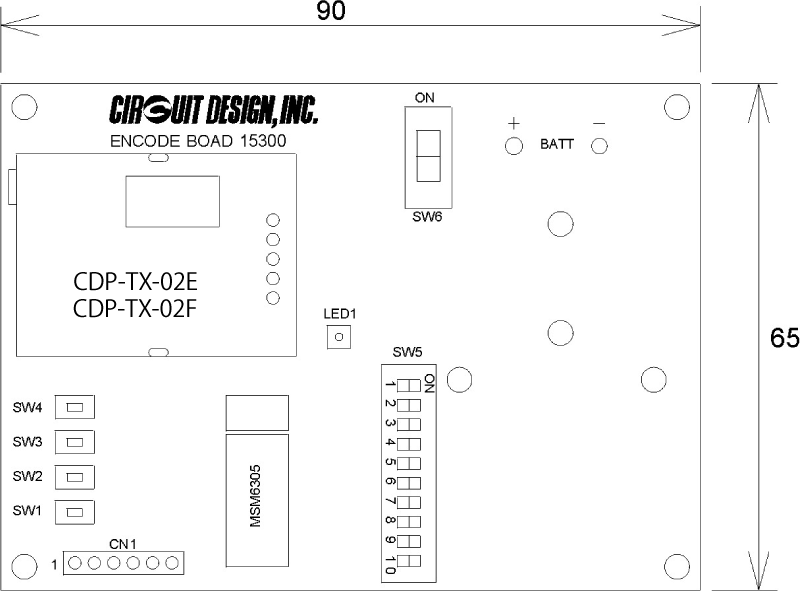 * Antenna, ANT-LEA-01-R, is included.
DCB-03