The KST2.4S and KSR2.4 allow the wireless transmission of up to 6 switching signals. A DC supply voltage of 6 to 24 V can be used for operation. By incorporating CRC-16 error detection, a Hamming distance of 6 can be achieved to minimise any malfunctions.
The communication mode is 1:1 only and neither 1:N nor N:1 is possible.
The switch between transmit and receive rapidly allows two way communication between input and output modules to constantly monitor the communication link status. By monitoring the link status from the unit, this will help the user stay within the signal coverage area.
Frequency hopping minimizes interference from other nearby radio systems on the 2.4 GHz band. There is no need to manage any channels and multiple system operation in the same area is possible.
Output mode of KSR2.4 selectable from momentary, toggle and one-shot.
Response time of 70 ms or below with line of sight communication of 100 m.
Incorporating NK-2.4Y with FCC (US) and MIC(Japan) certified. Operation in US and Japan possible.
*Connector with harness (500 mm) included. Antenna sold separately.
Select ANT-2G4W1R-R(ANT-2400-SF) or ANT-2400SFW.
*Communication range, number of units usable in one area are for reference only. Due to the installation environment, actual values will change.
Features
6 inputs (KST2.4S) / 6 outputs (KSR2.4)
3 output operation modes (One-shot, Toggle, Momentary)
CRC-16 and Hamming distance of 6 to minimize malfunction
Communication LOS: 100 m
Low current consumption
Communication status monitor via Link LED
1:1 communication with KST2.4S and KSR2.4
Frequency hopping scheme enabling simultaneous use of multiple systems within one area
FCC Part 15 and ARIB STD-T66 compliant RF module (NK-2.4Y) included
Applications
Remote control applications
Operation of agricultural machinery
Start / Stop control for motor operated equipment
Specifications
Common
Parameter
Specification
Remarks
Applicable standard
FCC Part 15
ARIB STD-T66
NK-2.4Y included
Communication method
Frequency hopping, two-way
Frequency
2403 to 2479 MHz
Frequency Hopping
RF output power
Max 1.6 mW
Communication bitrate
250 kbps
Communication mode
1:1
(Input mode: Output mode)
Error check method
Payload CRC16 + Packet CRC16
Hamming distance
6
Input / Output response
30 to 60 ms
RF connector
RP-SMA
Nominal 50 ohm
Supply Voltage
DC 6 to 24 V
Operating temperature range
-20 to +60 degree C
Dimension
55 x 45 x 12.5 mm
Weight
26 g
KST2.4S
Parameter
Specification
Remarks
Number of Input / Output
Input 6
Link output 1
Input circuit
Input ON voltage : DC 6 to 35 V
Current consumption
Max 30 mA
KSR2.4
Parameter
Specification
Remarks
Number of Output
Output 6
Link output 1
Output relay
Max 35 V, 200 mA
DC
Current consumption
Max 80 mA
All output ON
No loaded
Note: The antenna is not included with the unit. If required, please specify the antenna to be used. Refer to the antenna list here.
External View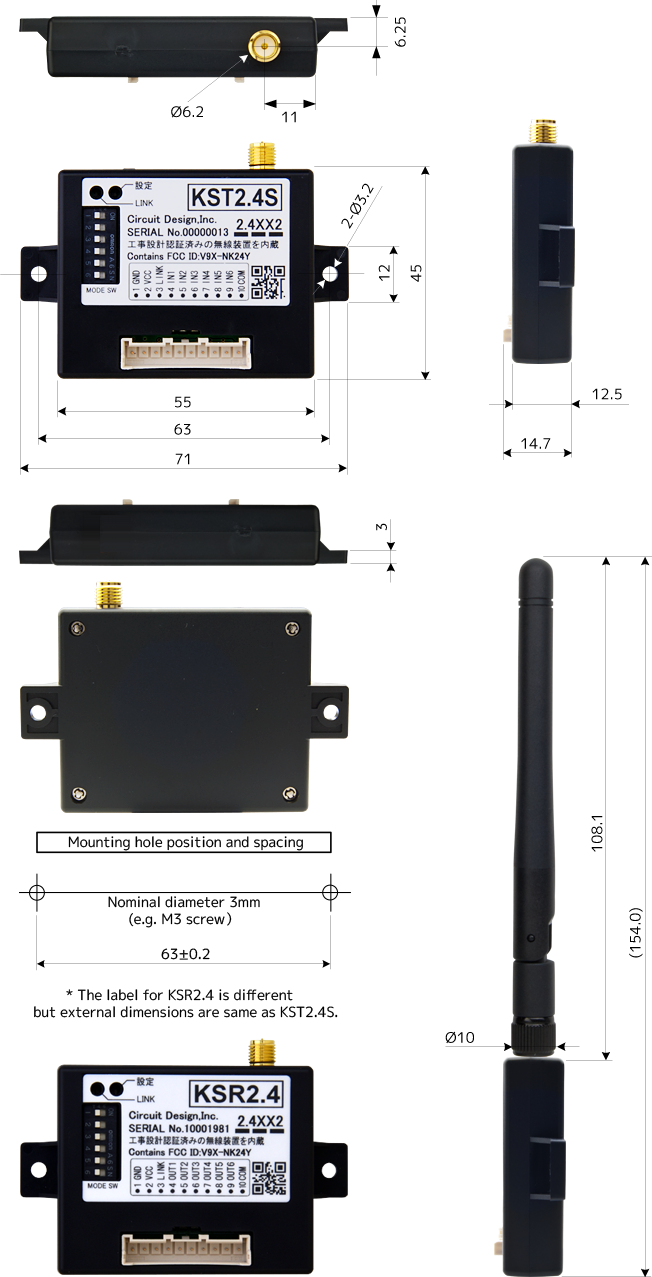 KST2.4S / KSR2.4
Data Sheet
Supplementary Information