The LMD-401 is a low power narrow band synthesized transceiver with GFSK modulation. It is designed for use in the licensed band in North America and USA.
This is designed for use under FCC Part 90 Private Land Mobile Radio (PLMR) services and the ISED RSS-119 Industry Canada standard.
This simple, compact and low power transceiver is designed for embedding in user equipment and suitable for various low power industrial telecontrol and telemetry applications requiring high performance and reliability.
All high frequency circuits are enclosed inside a robust housing to provide superior resistance against shock and vibration. Using a TCXO as the reference oscillator circuit of the radio component ensures high frequency stability in wide temperature range.
Features
Programmable RF channel with 12.5 kHz channel space
10 mW, GFSK  4,800 bps
Low power operation 3.0 to 5.5 V, 46 mA(TX), 36 mA(RX)
High receiver selectivity & blocking
Small size 50 x 30 x 9 mm
Excellent mechanical durability, high vibration & shock resistance
Wide operation range -20 to +65 °C
ISED RSS-119 Industry Canada compliant
FCC part 90 compliant
Applications
Industrial remote control
Telemetry
Remote monitoring / Security
Data acquisition/ SCADA
Other products related to this product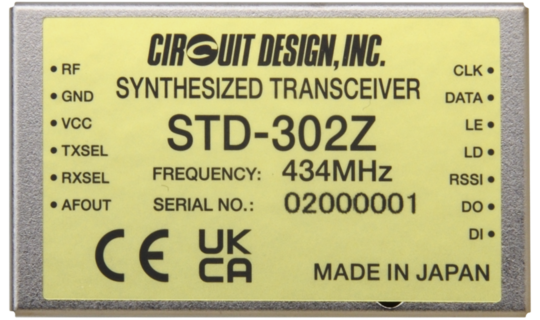 Channel Programmable Narrow Band FM Transceiver
Specifications
Common
Parameter
Specification
Remarks
Applicable standard
FCC Part 90.217
ISED RSS-119
Communication method
Half-duplex
Emission type
F1D
GFSK
Frequency
458.000 to 462.500 MHz
Channel spacing
12.5 kHz Channel programmable
RF bit rate
4,800 bps
Pulse width
Min. 200 us / Max. 15 ms
Operating temperature range
-20 to +65 degree C
Supply voltage
 3.0 to 5.5 V DC
Supply current
46 mA typ. (TX)
36 mA typ. (RX)
Dimension
50 x 30 x 9 mm
Weight
25 g
Transmitter Part
Parameter
Specification
Remarks
Transmitter type
PLL synthesizer
RF output power
10 mW
Data input
Digital L = GND, H = 3 V to Vcc
Deviation
+/-2.4 kHz
PN9 4,800bps
Spurious emission
< -37 dBm (< 1000 MHz)
< -31 dBm ( > 1000 MHz)
Adjacent channel power
-20 dBm
+/-12.5 kHz
Occupied bandwidth
< 8.5 kHz
Receiver Part
Parameter
Specification
Remarks
Receiver type
Double superheterodyne
IF
21.7 MHz (1st), 450 kHz (2nd)
Maximum input level
10 dBm
Receiver sensitivity
-116 dBm typ.
-116 dBm typ.
12 dB SINAD
BER 1%
Adjacent channel selectivity
> -50 dBm
+/-12.5 kHz
Blocking
> -20dBm
±2MHz,±10MHz,±5%
Data output
Digital L = GND, H = 2.8 V
Specifications are subject to change without prior notice
External View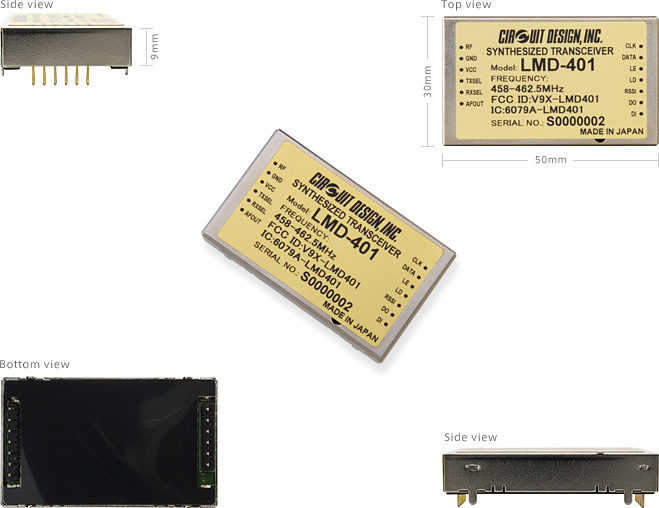 Evaluation Tools: TB-STD302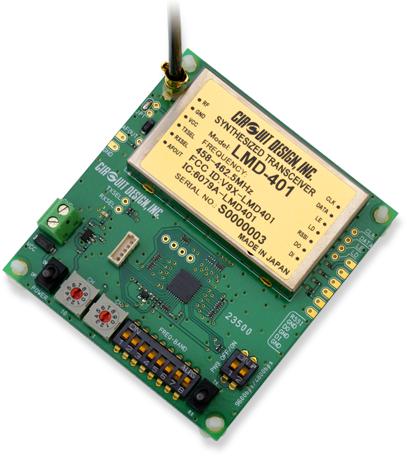 The test board TB-STD302 is equipped with a CPU which controls the PLL IC in the LMD-401.
Without making a PLL control program, you can perform data communication and range tests with the TB-STD302.
TB-STD302 does not include modules LMD-401. Please make sure to order it if needed.
Features
Pre-programmed 365 channels in 458 - 462.5 MHz band
External View