The SLR-434M smart modem is a compact, easy to use embedded radio modem operating in the 434 MHz ISM band. It allows conventional FSK mode communication and also communication using LoRa® mode providing long range at lower bit rate.
With high receiving sensitivity, it is possible to transmit up to a few km or more with line of sight using low RF output power.
By connecting to an external CPU or PC with UART interface, the user can send data or design simple control systems using Circuit Design's dedicated command protocol for industrial application. It is also possible to process up to 8 switching signals.
Applications include data transmission, telemetry and telecontrol.
* Under certain conditions when LoRa modulation is used in conjunction with low data rate, higher sensitivity is achieved and longer range becomes possible. When used in conventional FSK mode, up to 600 m (LOS) range should be expected.
The SLR-434M contains a Semtech's LoRa® wireless RFIC.
The LoRa® Mark and LoRa Logo are trademarks of Semtech Corporation.
Features
RED compliant (EN 300 220)
Extremely long range operation achieved by LoRa® mode.
Switchable between FSK mode and LoRa® mode
UART interface (COM port, RS232)
Simple command protocol for development of user program.
Transmission of up to 8 switching signals using IO terminals.
Compact size
Low voltage and current consumption
Higher resistance to urban noise, enabling long range operation compared to conventional FSK
429 MHz version available (Japan)
Applications
Data transmission in buildings, air conditioning control
Debris flow monitoring at mudslide control dams
River water level / dam monitoring
Greenhouse temperature / humidity monitoring and control
Sensor data transmission from underground or manhole
Monitoring of tunnels and bridge condition
Landslide warning
Other products related to this product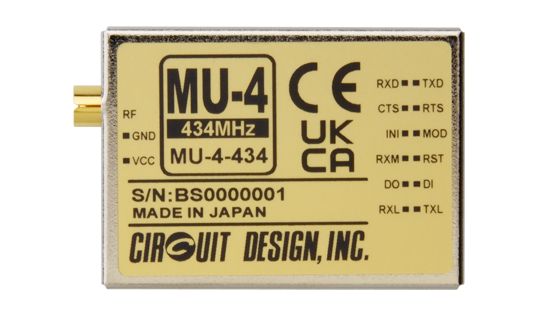 Embedded Radio Modem
Specifications
General
Parameter
Specification
Remarks
Standard
EN 300 220
Emission type
F1D
RF output power
< 10 mW
Nominal, Contact (50 Ω), SMA
Communication method
Simplex or half duplex
RF bit rate
15 to 245 bps (LoRa® mode)
4800 bps (FSK mode)
Actual speed with LoRa mode depends on spreading factor
Frequency range
433.0750 to 434.7750 MHz
Number of channels
137
Channel step 12.5 kHz
Receiver sensitivity
< -133 dBm  (LoRa mode 128chip)
< -115 dBm (FSK mode)
Supply voltage
3.3 to 5.5 V
3.5 to 5.0 V recommended
Supply current
29 mA typ. (TX)
17 mA typ. (RX)
5 V
External dimensions
(WxDxH)
40 × 29 × 6.2 mm
Not including the antenna connector
Modulation
2-FSK or LoRa
Selectable using command
Number of I/O
8
The LoRa® Mark and LoRa Logo are trademarks of Semtech Corporation.
UART Interface
Parameter
Specification
Remarks
Communication method
Serial communication
RS232C format
Synchronization
Asynchronous / UART
UART bitrate
19,200 bps
Flow control
Hardware: RTS/CTS pin
Software: Xon/Xoff not used
Other parameters
Data length 8 bits, no parity, 1 (or 2) stop bits
External View
Test Board: TB-SLR-RS2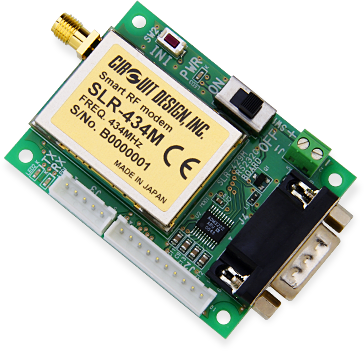 The TB-SLR-RS2 is an RS232 interface board for testing SLR-434M module. It can connect to the COM port of PC or PLC through the D-Sub-9 pin connector. The board is equipped with transmit, receive LED, power supply terminal, main switch and interface to sub boards. The module can be used with coax extension cable to allow optimum placement of the antenna according to the environment. Click here for more details.
This testboard does not include the modem SLR-434M. Please order if necessary.
Features
Connection to PC COM port for data communication and module control
Using RS232 cable, extension to tens of meters possible.
Evaluation program available
Interface to sub-boards for switching operation.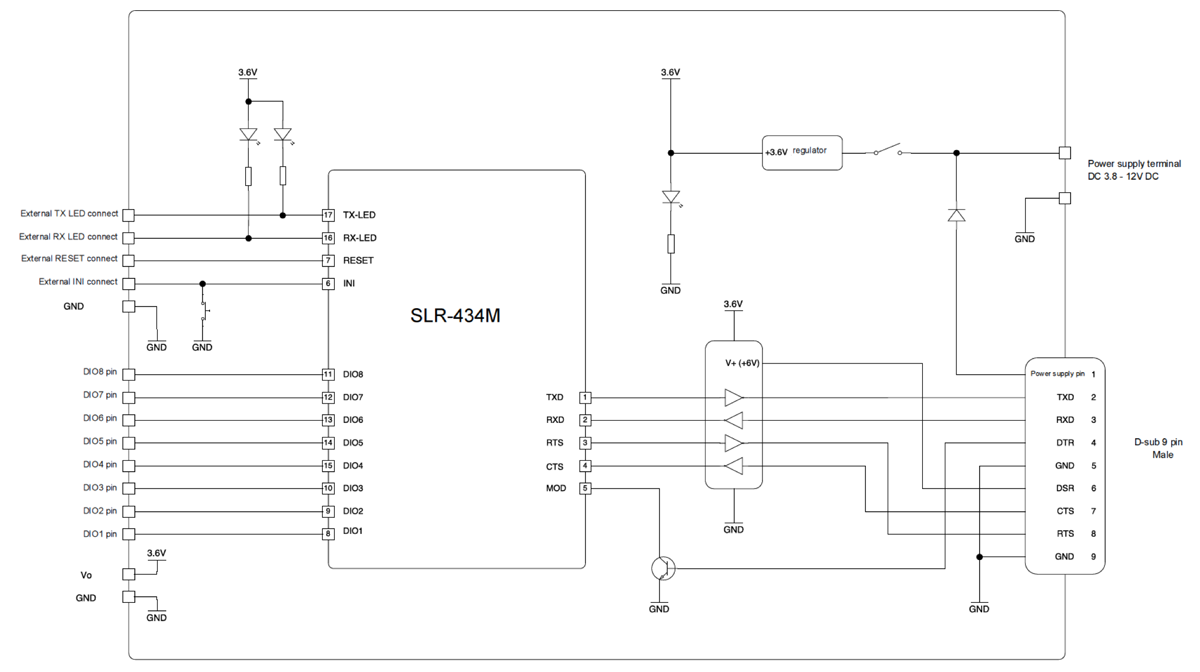 External View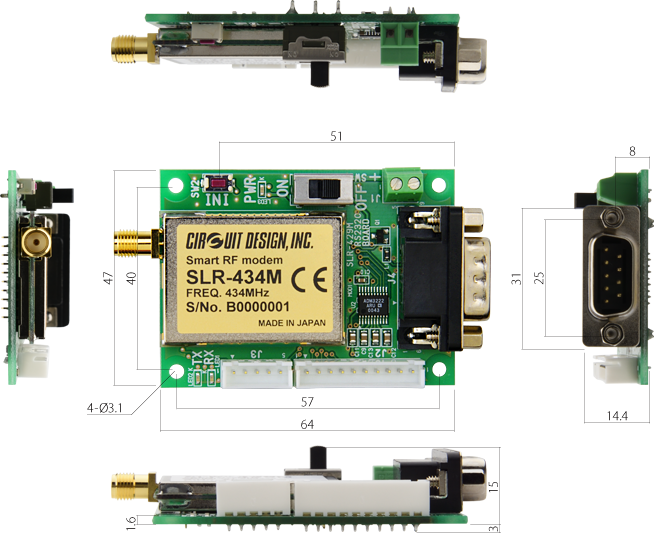 Switching Operation
Using the interface on the TB-SLR-RS2, sub boards can be attached to allow switching and loop back tests to be performed.
SB-SLR-DIO-A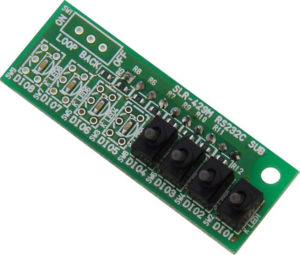 SB-SLR-DIO-B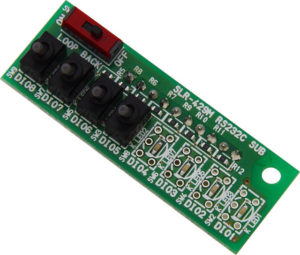 Note: sub boards SB-SLR-DIO-A and SB-SLR-DIO-B are required to perform the switching and loop back function and are not included. Please ensure you order them if necessary.